Manifesto Watch – Republic of Ireland General Election 2016
February 24, 2016
With the Dáil election in the Republic of Ireland taking place this Friday, we thought it might be interesting to do a quick round up of what the various party manifestos have to say about Northern Ireland and human rights both here and in the Republic.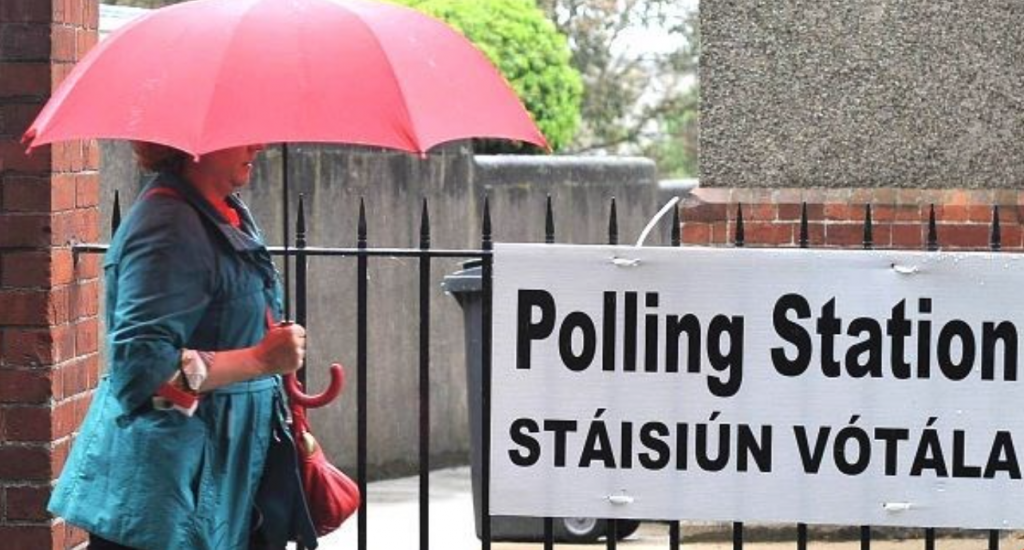 Northern Ireland
Northern Ireland is not raised at all in the manifestos of some of the smaller parties, including the Social Democrats, the Anti Austerity Alliance and the Independent Alliance. While some of the manifestos discuss cross-border issues such as the A5 and Narrow Water bridge projects, I have focussed on 3 issues- 1. The Peace Process & Stormont Institutions, 2. The Bill of Rights & Charter of Rights and 3. Voting Rights with a number of interesting proposals being made under all three.
The Peace Process and Stormont Institutions
While RENUA calls for the hastening of normalised relations in the two communities in Northern Ireland and notes the peace process and institutions require further strengthening, the party believes that the conflict resolution process from Northern Ireland is something that Ireland should be exporting and should form a plank of foreign-policy activity.
Fianna Fáil takes a more dismal view, referring to 'Paralysis in Stormont and neglect by co-guarantors of the Good Friday agreement' and noting a degradation of North-South institutions by this government. The party calls for the institutions to be re-energised and the need to build a lasting peace in Northern Ireland, noting for example that they'd increase funding to the Peace and Reconciliation fund by €2.3 million.
Sinn Féin don't spend too much time on the peace process, other than noting that they will 'Challenge the British Government to live up to their responsibilities to the peace process on legacy issues and dealing with the past.'
Fine Gael notes substantial progress made as co-guarantor of the Agreement, and name check Stormont House and a Fresh Start as ways of providing a new political, social and economic framework for Northern Ireland.
The Labour Party manifesto notes continued commitment to the Agreement and the institutions under it and commits to 'press for full implementation of the Stormont House Agreement to deal with outstanding issues.'
The Green Party supports the call for an opposition in Stormont and a fundamental change to the formation of the Executive and Programme for Government, which should be part of a wider political reform programme tackling other legacy issues arising from the Agreement and St Andrew's, which should be endorsed by a referendum in Northern Ireland.
The Bill of Rights and Charter of Rights
It's Fine Gael that leads the call for the Bill of Rights for Northern Ireland- including it in a list of 'unfulfilled commitments under previous Agreements' that it will support efforts to implement.
Sinn Féin however, goes down the Charter of Rights route- noting that they are, "Committed to the establishment of an enforceable All-Ireland Charter of Rights, as promised under the Good Friday Agreement."
Labour's manifesto commitment in the previous section should also be recalled here, as it seems to suggest that full implementation of the Stormont House Agreement would deal with outstanding issues.
This is a really interesting area in the manifestos, it seems that some parties are clamouring to offer us voting rights up here in Northern Ireland.
Sinn Féin has the most expansive plans in this regard, promising that, "We will hold a referendum to reduce the voting age and extend voting rights to citizens in the North and to the Diaspora." Exactly what elections these would be for isn't expanded upon, but they also want to give MPs in Northern Ireland automatic membership of the Dáil, including consultative and speaking rights and to extend Presidential voting rights to citizens in Northern Ireland and the diaspora. They mention that this would be done through introducing the thirty-fourth Amendment of the Constitution (Voting Bill), but don't mention that this would presumably first require a favourable outcome in a referendum as do any constitutional amendments.
Fianna Fáil calls for representation from Northern Ireland in the Seanad, specifically for a Unionist voice, through the Taoiseach's nominees. They are also committed to "proposing to the people the expansion of voting rights for Irish citizens abroad, including Irish citizens in Northern Ireland, to Presidential elections." A clearer note of the need for a preliminary referendum.
Fine Gael's commitment seems a little weaker in this regard, they commit to 'fully explore' voting rights for Irish citizens outside the State 'with a view to holding a referendum' on voting in presidential elections.
Human Rights
The parties all have some mention of rights, and while I'll take a look at some of the more interesting proposals at the end, there are definitely some key themes that emerge in a number of manifestos, so it's these that I'll focus on first.
There seems to be a huge surge in support from the parties for the ratification of UNCRPD by Ireland. The roll call for those promising this measure is as follows: Green Party, RENUA, Independent Alliance, Labour Party, Fine Gael, Social Democrats and Fianna Fáil (for those taking note only the Anti Austerity Alliance and Sinn Féin are missing).
Some parties go further with disability rights. Fianna Fáil wish to reform the Department of Social Protection into the Department of Social Protection, Disability and Equality, and do likewise with the corresponding Minister.
An interesting proposal from Sinn Féin is that the department of An Taoiseach be given specific responsibility for Disability Inclusion, with a named person having overarching responsibility for the advancement of the rights of people with disabilities who sits at the Cabinet table and is party to all decisions affecting people with disabilities.
RENUA proposes an Ombudsman for people with disabilities, equipped with powers to hold local authorities, public bodies and Government Departments to account for their treatment of disabled citizens.
Equality and Non-Discrimination
Parties in this regard highlight a whole range of minorities who could benefit from greater legal protection.
A number of groups call for the recognition of Travellers as a specific ethnic group (Sinn Féin, Anti Austerity Alliance and Green Party).
The Anti Austerity Alliance also calls for equal pay for equal work and to abolition of all legislative blocks on equality (including the blood ban), and an end to discrimination (including that against migrants, Travellers, LGBTQ people and women).
The Independent Alliance states that they will not tolerate discrimination of any kind and call for equal access to health and education.
The Labour Party calls for a national LGBT strategy and commits to reviewing the Gender Recognition Act in 2017.
Fine Gael commits to publishing an updated National Women's Strategy that promotes "gender equality, women's participation in decision making and the empowerment of women." They also want to see wage transparency increased, and propose requiring companies that employ more than 50 people to participate in pay surveys.
This is an issue that's raised in varying ways by a large number of parties.
Sinn Féin commits to a referendum to repeal the Eighth Amendment in order to provide for a woman to seek a termination of a pregnancy where her life is at risk or in grave danger, and in cases of rape or incest as well as in cases of fatal foetal abnormalities.
The Social Democrats commit to a referendum within 18 months, and also to campaigning to support repeal. Beyond calling for a modern legislative regime, the Social Democrats don't go into detail about the circumstances in which they would like to see termination of pregnancy made available.
Fine Gael will establish a Citizen's Assembly within 6 months to examine the issues in details. They further state that any proposals emerging from the Citizens' Assembly would then be examined in detail by the Oireachtas, through an all-party committee with access to the appropriate medical and legal expertise. There is no further information as to what will then happen.
The Labour Party will initiate and support a referendum to repeal the Eighth Amendment.
The Anti Austerity Alliance states that they will repeal the Eighth Amendment and legislate for a woman's right to choose.
On this issue the Green Party notes that they support the repeal of the Eighth Amendment of the constitution and will seek a referendum as soon as possible. If the referendum passes they will then support legislation that includes lawful termination in the cases of rape, incest, fatal foetal abnormality and risk to health of the mother, subject to the criteria given in their Reproductive Rights policy.
Some Interesting Human Rights Policies
Some of the parties have some other human rights policies that I thought it was worth highlighting and watching with interest depending on the election outcome.
Fianna Fáil want to legislate to make cyber bullying a specific criminal offence and work with the Special Rapporteur on Child Protection to establish new protocols for social media sites operating in Ireland to deal with bullying.
The Labour Party proposes the development of the State's first tax and human rights policy, incorporating issues such as corporate transparency, double taxation agreements, and the interaction of national taxation systems.
The Green Party will add a constitutional provision for ESC rights, particularly to pursue the universal provision of housing and healthcare, adding that in the interim Esc rights should be strengthened by making them legally enforceable through the courts. Despite the creation of enforceable ESC rights being a recommendation from the Constitutional Convention (in the same way as Equal Marriage proposals were included and now legislated for through last years referendum) over two years ago this recommendation from the Greens is the only comparable articulation of a similar proposal.
The Anti Austerity Alliance, in noting that access to clean, safe water is a human right call for it to be free at the point of use.
On the downside RENUA proposes that parents should be responsible for juvenile crime, and should be legally responsible if their child either continually gets into trouble or the parents do not take reasonable steps to control their child's behaviour. On the bright side though, they also call for Ireland's Mental Health Act to be updated in line with international human rights standards and the UNCRPD within the first year of government.
The full manifesto of each party can be accessed here: