Brexit, Devolution and Civil Society
June 6, 2019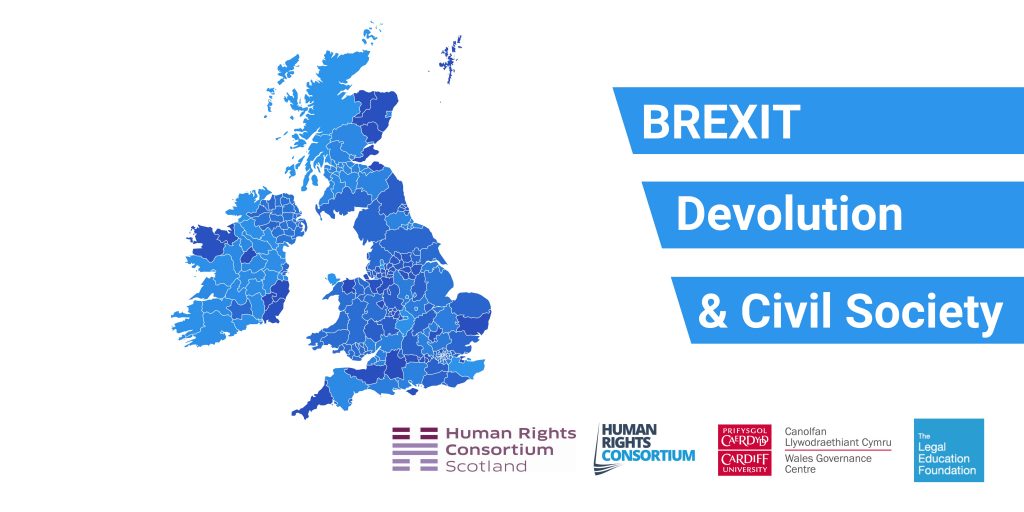 #BrexitDevo
Recently, the Human Rights Consortium hosted a Brexit, Devolution and Civil Society Conference with Wales Council for Voluntary Action, the Human Rights Consortium Scotland and The Legal Education Foundation.
This conference was a two-day event that provided a unique opportunity for civil society organisations from across the four regions of the UK to reflect on the impact of Brexit in each jurisdiction, map out commonalities and collaborate on shared and individual responses.
We explored issues relating to the future of civil society and devolution after Brexit and provided a space for colleagues to network and build strong connections. Within this space, we considered the legal and constitutional impacts of Brexit for devolution, the future of human rights and equality protections across the devolved regions, post-Brexit funding opportunities and challenges and consideration of how civil society might continue to work not just with each other, but with and within Europe after Brexit.
On the back of this, we have launched a series of videos reflecting on the event and highlighting the challenges of Brexit for Civil Society. Through this series of videos, you can hear from organisers, delegates and guest speakers to gain an insight into the knowledge shared at this conference. Have a look at the videos we have released so far below:
#BrexitDevo Video Series
 Director of Human Rights Consortium – Kevin Hanratty:
Counsel General and Welsh Brexit Minister – Jeremy Miles
SNP MP for Edinburgh South West, SNP Spokesperson on Justice and Home Affairs – Joanna Cherry QC MP
Director of Committee on the Administration of Justice (CAJ) – Brian Gormally
Stay tuned for more videos released in this series from us and our regional counterparts!  Check this page and keep an eye on our Facebook and Twitter.
______________________________________________________________________________________________________________
This four regions conference was funded by the Legal Education Foundation (LEF) and organised collaboratively by:
The Wales Civil Society Forum on Brexit
The Brexit Civil Society Project in Scotland
The Brexit project led by the Human Rights Consortium in Northern Ireland